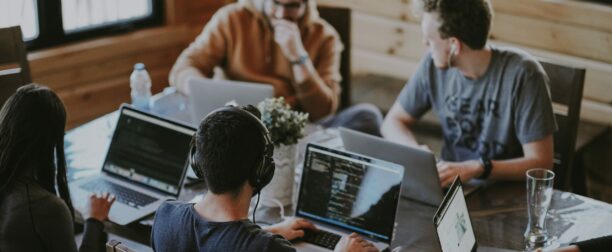 5 Reasons why teamwork matters in the workplace
The benefits of teamwork are invaluable in today's business world. When people come together, they combine their unique skills, education and experience in a collaborative manner, which gives a wider and more vibrant effect. 
The teams allow the company to implement projects that an individual employee cannot perform alone, create new alternatives using various environments and experience, find talents and weaknesses that a person can ignore, and maintain a social environment that increases employee satisfaction. Team members also benefit from collaborating with others.
Turning to new ideas and perspectives, team members will receive a new useful approach to future challenges. The following five reasons summarise the importance of teamwork and its importance.
1) Teamwork motivates unity in the workplace
The working environment in the team contributes to an atmosphere of friendship and devotion. These close relationships motivate employees in parallel and adapt them to harder work, cooperation and mutual support. The team uses different ideas because all participants have their ideas. Such a collective memory in a team can help achieve better results and ongoing responsibility in the organisation. Satisfaction is another important factor in teamwork. Each participant is happy to contribute to the team. This approach can then cover the rest of the organisation.
2) Individuals possess diverse talents and weaknesses
Skills, strengths and communication skills. Therefore, when teamwork is not encouraged, it can create many problems in achieving common goals. Individual talents are reinforced in teamwork. Individual members have unique talents, and their talents are used and maximally used in the team. However, this requires the active participation of a leader. Recognition of efforts and actions taken can enhance the team's morale and encourage individual team members to do their best.
3) Teamwork offers differing perspectives and feedback
Functional teamwork structures give your organisation a variety of thoughts, creativity, perspectives, opportunities and approaches to solving problems. The right team environment allows people to brainstorm, which in turn increases their success in solving problems and allows for more effective and efficient solutions.
Effective teams also allow you to initiate innovation, which, in turn, creates a competitive advantage in achieving goals. Sharing different opinions and experiences increase responsibility and can help you make effective decisions faster than alone. Teamwork boosts productivity with quick feedback and many skills that support your work. The stages of design, planning and implementation can be performed much more efficiently if the team works well.
4) Teamwork delivers better performance and productivity
By implementing teamwork strategies, you become more efficient and productive. Another important advantage of teamwork is load balancing among team members. Individual participants will now perform the work for which they were appointed. The same applies to all team members. Multiply the overall effectiveness of people starting to work in teams.
5) Teamwork offers great learning opportunities
Teamwork allows us to learn from our mistakes. You can avoid mistakes in the future, accumulate knowledge from different points of view and learn new concepts from more experienced colleagues. Even the most skilled person cannot have all the skills to do everything. Individuals have different skills, knowledge and personal qualities.
Using all these various aspects of a team, you can generate more ideas. As more ideas are generated, more and more creative solutions have generated that lead to better results.
BONUS: Teamwork fosters synergies in the workplace.
Mutual support of common goals, cooperation, and promotion of interaction in the workplace. Because of this, team members can feel a greater sense of accomplishment, are collectively responsible for the results achieved, and can feed people with motivation to act at higher levels. The participation and commitment of each member increase in the team, making the results of the team difficult.
When a team member works with another team member, his or her efforts may receive additional momentum. He is more responsible in the team and may receive additional ideas from team members. Although individual employees can do this, team relationships are clearly defined and can help people rely on help from team members.
Without the ability to work effectively in a team environment, you can delay success in developing, formulating and implementing new and innovative ideas. The ability to solve problems, as well as the achievement of goals, which, in turn, hinder the limitation of the efficiency and effectiveness of the successful development of the company, is reduced.