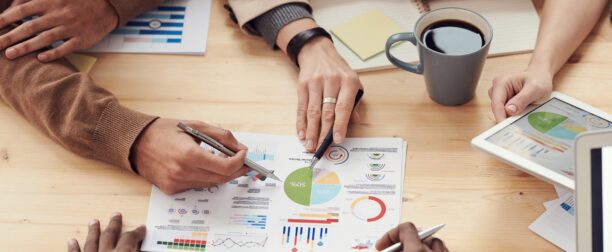 Key Components of a Digital Strategy
Today, it's become significant to have an effective digital strategy for businesses – small, medium or a startup. With internet technologies gaining currency and popularity coupled with the ease of availability of high-quality communication gadgets such as smartphones, tabs and the like, digital strategy has become critical to reach the potential audience and not miss the existing audience without fail.
Under the circumstances, it's imperative to chalk out a digital strategy to achieve the business objective or goal. We'll discuss here the key components of a digital strategy.
1. General analysis
Start looking for data on the market. Use diverse firsthand sources of statistics on the current market scenario. While using data from diverse sources, narrow down to bring them closer to your business reality.
Analyze the data and make conclusions on what could ensue in the digital market scenario in the coming forth shortest period. This component is a process as part of your digital strategy. You can get a critical perspective on the market and where you are.
Use web analytics, email campaigns, social media data (Twitter, Facebook) to get a broad idea from the data collected.
2. Have a plan
Once you've made the analysis, check with all stakeholders in your organisation: employees, vendors, shareholders, and partners to take a look at the data. By this, you will make your digital strategy more participatory in its framing and implementation.
Focus on what mattes organisation the most. Make different digital media work coherently.
Plan according to the level and intensity of competition.
3. Consider having a website
A website is very important to help your potential and existing customers to interact with you. With your website, you can communicate the essential information about your business and the products and services that you sell.
It's important to focus on the local audience first. For this, ensure your website is responsive. Such a website your customers can access on any platform or device.
4. Target audience – local keyword (kw) optimisation
You need to know about the online search behaviour of your customers. It's better to focus on the local audience first. This will help you understand the audience better from other parts of the world.
Conduct a simple local keyword search related to your product/service. Remember to include the local area in the meta tags for each of the pages on your website.
Create local business listing pages on Google for your business and its retail locations.
It should be easy for your customers to found your business online.
5. Proper social media environment
Today, social media networking sites have assumed critical significance in promoting business, interacting with customers and engaging customers.
Channels like Snapchat, Instagram, Facebook, and Twitter could be a great way to promote your business and propagate your message among your potential customers.
Emphasise user-generated consent. User-generated content is more authentic and transparent.
Collaborate with big brands and convey a more personal story.
6. Know about customers' shopping behaviour
Today, an increasing number of people are going for online shopping because of the diverse reasons that make it easy, simple, safe and less time-consuming.
You need to make your business website compatible with an effective payment system.
Your website should be certified with safety. Your site should have https. This will protect your customers against third party attacks in the middle of transactions.
Everything with respect to the return of the product and refund should be transparent. This will help boost your customers' confidence.
7. Content strategy
The content you post on your website should be education, informational and actionable. This will keep your customers looking for your content to learn more about your product/service and additional service that you offer at no cost.
To ensure fresh content in your site, have a content strategy and make a content schedule.
Start with an eight-week schedule and check out the feedback from your customers.
Publish content on social media pages such as Facebook, Instagram, and Twitter.
Create video content to make it more effective.
8. Execution is an opportunity
Don't get overwhelmed. You need to do a lot. Plan it properly and execute/get it executed in as per the digital strategy that you chalked out.
Take it as an opportunity that you need to leverage your resources for. It's for the good of your business over time.
You will gain insights into your business performance in a competitive market.
Conclusion
Building a digital strategy for your business will enable the transformation of your business to a new level. It will ensure technology is implemented in a way that supports the business objective.